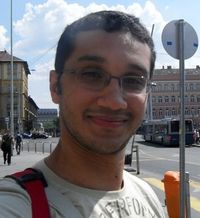 I'm Davidson Sousa, a Microsoft Certified Solutions Developer and a former trainer (MCT Alumni) specialized in ASP.NET, MVC and Entity Framework.
On the last years I focused on web development, software architecture, menthoring and team leadership. And you know what? I love it! It's amazing to plant the seed of a project and watch it grow while making sure that everything goes as expected.
But of course, I am always trying something new in order to keep my knowledge fresh. My lastest ongoing pet project is the entire rebuild of my website, which you can see in my Github repository: https://github.com/davidsonsousa/CMSEngine. Still calmly working on that. :)
I am live in Prague, Czech Republic and I am struggling to learn Czech for some time. But anyway, feel free to contact me in any of my social networks with corrections, suggestions or even technical questions. I'll be happy to answer, even if it takes some time.
You can check my Microsoft Transcript by clicking on the link below:
Transcript at: http://bit.ly/ValidateMCP2
Transcript ID: 949304
Access code: davistranscript