Funny... I ask for snow and I get a hurricane...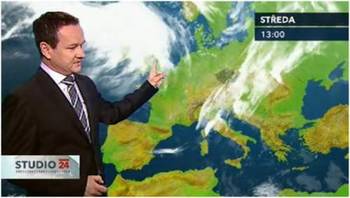 I just saw a link on Facebook about a hurricane which will hit Czech Republic today.
The article says that the winds are going to reach 126km/h in the region of Ústí (north Bohemia) while, in the rest of the country, the wind speed might reach 75 to 100 km/h. It also says that higher places can expect between 10 and 50cm of snow.
Hurricanes in this part of Europe aren't so common. According to Wikipedia most of the hurricanes that happened here were on the European coast and didn't make so much damage. Probably because they are already weaker when they get here.
Besides, they are usually formed in the late summer when the difference of temperatures between the air and the oceans are higher than normal.
Now, let's think: Taking in consideration the closest ocean we have here (North Atlantic) and the season of hurricanes (between June and November) I don't know if we can call that a hurricane. But maybe Al Gore was right about the global warming.