Do you know those days you don't want to be in the office? Here is what you need to work anywhere you want!
When I started my career as software developer all I could have was a big desktop computer. It was an Intel Celeron 300 MHz with 32 MB of RAM and a HDD of 4 GB. Such beauty would never let me to have the mobility I am able to have today, although I am still far from being as mobile as I want.
But what do you need to become a "work anywhere professional"?
The basic checklist is this:
A nice place
Good devices
Internet connection
Tools
Concentration
Now, let's talk about each item.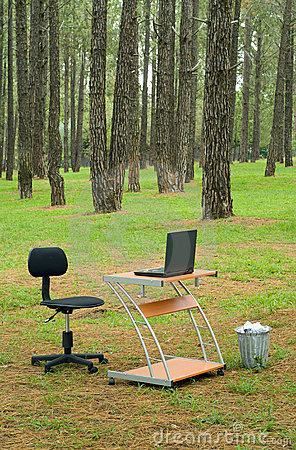 Place
The place must be nice, preferably with a table where it's possible to place all your devices (more on that later), and calm unless you have a good concentration level (more on that later). Most of people think of places like Starbucks or McDonalds but, actually, it would depend on the kind of work you do and how connected you must be. For a writer, who doesn't need to be online all the time, work in the woods would be a nice thing. But for a software developer, who depends on internet connection, it would be a bit more complicated.
Good devices
The very basic is a notebook and a mobile phone with a good data plan. In my particular case I have a 17" Lenovo as main computer and a 10" ASUS Transformer as side computer. If I am traveling or going to a place where I know I will need a computer, I take the ASUS. The keyboard is comfortable enough to write and the touchscreen replaces in a very nice way. In addition, I have Visual Studio Express here and it works fine for me.
Another thing to keep in mind is battery time. My Lenovo can work up to 3h with Wi-Fi turned on while my ASUS works up to 10h in the same conditions. Given that I assume I will not find sockets anywhere I go a good battery time is very important. Not to mention that I can it also to recharge my phone, at least to keep alive for longer time (if necessary).
Internet connection
You have 3 possibilities here: Connect over Wi-Fi, use your mobile data plan and share the internet with your notebook or work offline.
It's clear that Wi-Fi is the best alternative here. However, you can't expect to find free Wi-Fi with a good speed anywhere. And I am not even talking about how unsafe that would be. Connect over mobile and sharing the internet to your notebook is to be the best option if you have a good (big and fast) data plan, except if you are on roaming.
Tools
The idea here is to have everything to make the transition from your portable machine to your stationary machine as seamless as possible. Except, of course, for some software you can't install on both due hardware limitations.
Assuming that you have internet connection, you can make use of tools like a private VPN, online file services (OneDrive, DropBox, Google Drive), online repository (TFS Online, GitHub) and others. As a developer, I consider all of them important, although I don't have a private VPN. Yet.
Concentration
The best here is to be self-aware: If you know how much concentration you are able to have in the moment you decide to leave the office, you will pick the perfect place for you. For those who can work only in a silent environment a Starbucks would not be the best place.
Conclusion
My case is a very specific one. I love what I do but I am far from being workaholic. But sometimes I need to work on something small or go somewhere where I could use a computer. Today, for example, I started this article watching children play indoor soccer in the morning. It was noisy, messy and I was using my ASUS on my laps. Luckily, that place had a good internet connection and I could save this text in my OneDrive in order to finish on my notebook later.
Keep something in mind: Find balance. It doesn't matter if you have an outstanding data plan if you are abroad most of the time as you will need to use roaming. Or even, you have the best of everything but you can't concentrate in a café.
And remember: The best alternative is always the alternative that suits you.