Microsoft is releasing new certifications for this evolving technology!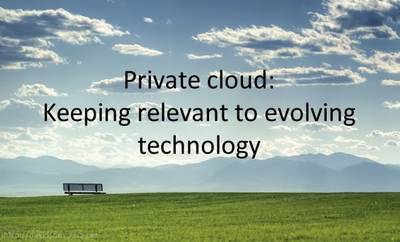 I have already talked a bit about Windows Azure here. To simplify a lot the idea behind Windows Azure: It is a cloud computing solution and one of its advantages is to escalate the project according to the needs of the company. Of course, some companies wouldn't feel comfortable sending important data to the Microsoft servers but there is a solution for this: Private Cloud.
A private cloud solution, which is built on Microsoft Windows Server and System Center technology, turns your datacenter infrastructure into a cloud based solution. It simplifies deployment, maintenance, and cost, while increasing agility and power.
With that in mind all we need is a skilled team to setup everything.
Microsoft knows about the needs of the market for professionals who matches these requirements and is offering trainings and certifications which enable IT professionals and developers to develop and validate their skills. That means we now have a private cloud certification!
The certification will be available as beta release in April and it starts with the foundation of the Windows Server 2008 exams we have today plus the new System Center 2012 exams (still beta).
Get started today checking the Microsoft Private Cloud Certification Overview page. It's a good place to start your preparation and practice for this new certification. You can also sign up for the upcoming Private Cloud Jump Start course.
Think forward on your career. Surely there will be a plenty of space to work with private clouds in the near future.